solutions
Knowledge Discovery
Retrieving the correct information
uma offers practical search solutions
uma has more than 10 years of consulting and implementation experience in the fields of search and knowledge transfer. Based on the service platform Melvil® for semantic search and as experts on text analysis applications (e. g. UIMA) we develop and implement customisable solutions for companies and projects of all sizes. The extra visualisation with Melvil® knowledge exploration sustainably supports knowledge transfer and enables knowledge to be experienced.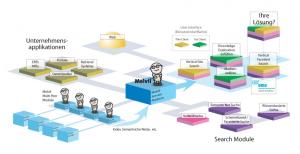 Enterprise Search Solutions with Melvil
uma develops custom- and purpose-built business solutions which offer a highly performant search over heterogeneous data sources.
uma's search solutions are highly scalable and available. Especially in companies, the use of company information can be maximised for all staff members. The search solution combines pre-defined content from various data sources and supports the analysis of natural language - NLP: Natural Language Processing - and unstructured information thanks to the integration of UIMA. The context-specific security of the underlying repositories is thereby taken into consideration. The search solution can be scaled to thousands of users and millions of documents and processes structured and unstructured information so as to build a comprehensive search index. Moreover, it is perfectly suited for secure implementations of intranet search, for information extraction and linguistic text analysis applications.
Melvil® service platform
Melvil® is a component-based service platform for information processing, information retrieval and information mediation, and is particularly suitable for internet and desktop applications.
The Service Oriented Architecture (SOA) of Melvil® offers several advantages:
Not a monolithic application but separate components which are assembled into one application
Individual service implementations can be interchanged (integration of 3rd party)
Service remoting (distribution of load and content) via peer networks
Built on industrial state-of-the-art standards (e.g. UIMA)