solutions
Melvil® knowledge exploration
Navigating through knowledge spaces
Due to the rapidly increasing amount of data, the need for an intuitive and comprehensible navigation mechanism is increasing. Applications based on Web 2.0 aim to filter specific knowledge from all available information and to simplify the retrieval and transfer of knowledge.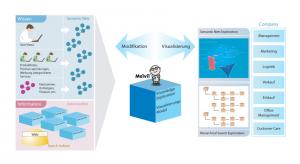 Melvil Knowledge Exploration
The original idea is that every user has his/her individual knowledge space*. Each of these spaces can be used collectively, changed and extended. Thus, one's own knowledge can be extended by taking over facts from others' knowledge spaces.
The use of custom-built and highly intuitive navigational aids supports this process (information retrieval, extension and sharing of knowledge spaces) and they offer a useful possibility to perform this task.
Benefits for your company and clients
Using Melvil® knowledge exploration, it is possible to capture the interests of each individual person and to retrieve high-quality information of special interest. Moreover, Social Interest Search can be used to perform target group specific marketing using Content-Push.
At a glance

Intuitive navigation aids are needed for today's large amount of data.
Knowledge extraction must be simplified.
Knowledge transfer must be supported.
Users each have their own knowledge space.
Knowledge spaces can be created, extended and shared with Melvil knowledge exploration.
uma as solution partner
Melvil® knowledge exploration enables uma to fulfill current and future requirements in the field of knowledge extraction and to sustainably support knowledge transfer. We offer
A team with more than 10 years of both consulting and implementation experience
A competent partner for seach applications and knowledge transfer
Customised solutions with IBM OmniFind + our own add-ons such as Melvil® Knowledge Exploration
Melvil® knowledge exploration enables
the preservation and storage of knowledge using knowledge networks
a simple and intuitive navigation through (pre-defined) knowledge spaces
high-quality results thanks to the combination of full-text and semantic search
automatic visualisation of search results within a knowledge space
simple generation and extension of knowledge spaces
archiving of search processes
integration of various kinds of data sources
several adaptation possibilities of presentation format
*Knowledge space | uma`s understanding

A knowledge space is a structure which reflects the level of knowledge perceptible to an individual. This space is obtained by combining own's own expertise with the knowledge of others.