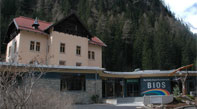 BIOS in Mallnitz / Carinthia (A)
The Austrian national park Hohe Tauern
A unique exhibition atmosphere for the Austrian national park "Hohe Tauern"
Almost every one of us has already at some stage visited a national park, enjoyed the untouched nature and rural architecture, and marvelled at the flora and fauna. But who is actually responsible for the protection and promotion of these areas?
uma is currently designing a concept for a both informative and emotional exhibition for the Austrian national park centre in Mallnitz, Carinthia.
We are responsible for the overall conception, design and implementation. In collaboration with the architecture office liquifer, we aim to create a unique atmosphere which reveals the beauty of the environment in an impressive manner.
The visitors are encouraged to enhance their knowledge in a playful manner using several interactive stations.
Families and groups of all ages will not only enjoy their visit, they will also go home with a new image of the national park and its tasks.
Links
Interactive environments
Partner